Having a variety of choix de déchargeurs de big bag plays an important role in streamlining the process of unloading and handling bulk materials. From agriculture to construction, pharmaceuticals to food production, various industries rely on these specialized machines to handle and transfer granular or powdered materials effectively. Learn about eleven different standard models of bulk bag unloaders Spiroflow has to offer and optimize your production line.
Bulk bag unloader choices encompass a wide array of specialized systems designed for efficient handling and emptying of bulk bags, from T1 to T10/11 models. Each option caters to specific industry needs, from standard unloading to precision weighing and containment, offering versatile solutions for various applications.
What Bulk Bag Unloaders Choices Are There on the Market?
When it comes to optimizing manutention de matériaux en vrac, selecting the right bulk bag unloader is pivotal. In today's market, there is a wide array of customized options available, each designed to cater to specific industrial needs. These choices encompass various designs, features, and capabilities, making it essential for businesses to stay informed about the latest innovations.
This being said, let's explore the diverse range of bulk bag unloader choices currently available, helping you uncover the ideal solution for your unique requirements.
T1 Is a Simple Support Frame Bulk Bag Unloader
Notre Déchargeur de Big Bags à cadre support simple T1 is an economical alternative for straightforward applications. But how do these conveyor technologies work? The discharged product is completely free-flowing and dust-free, requiring no flow aids or containment.
What Is Uncontrolled "Choke Feeding" Feature?
The best feature is uncontrolled "choke feeding" from bulk bags. It is acceptable where no other flow regulation is required once the neckties are released. However, an operator must be present through the entire filling process.
Déchargeur Big Bag T2 pour déchargement par volume
Notre Universal T2 Bulk Bag Unloader provides controllable discharge by volume. The flow from the bulk bag is effortlessly managed by a built-in Spiroflow conveyor, which is directly connected to the discharger's base.
It's important to consider that not all belt conveyor manufacturers have this procedure. This is why our conveyor design can precisely measure the contents of bulk bags, delivering them to a process vessel in a secure and regulated way.
Moreover, the Type 2 Universal Unloader offers exceptional versatility and user-friendliness through the incorporation of various design options. The discharge chute can be custom-tailored to precisely suit your specific application, enhancing its adaptability and ease of use.
T3 Loss-In-Weight Bulk Bag Unloader
Notre T3 Loss-In-Weight Bulk Bag Unloader gives you complete authority over how much product you want to release from the system. You can adjust this for specific batches or seamlessly integrate it with your plant's control system for ongoing production.
T3 Model Provides Precision Weighing
The T3 includes all the trusted features of our Universal T2 model, but it has the bag support dish mounted on load cells. This allows for precise weighing of the product when it's emptied from the bag. If necessary, integral transfer conveyor belt systems can also be suspended from the weight frame to provide a totally self-contained discharge and loss-in-weight dispensing unit.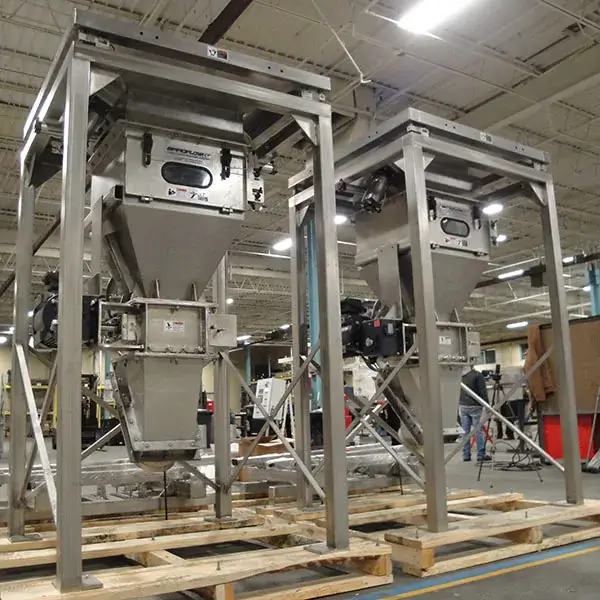 Déchargeur de Big Bag T4 pour sacs à trajet unique
Single-trip bulk bags are widely used in plant environments for low-value or hazardous products that require a dust-free and controllable emptying method. Our T4 Bulk Bag Unloader efficiently empties disposable bags without a bottom spout, ensuring no waste or spills. It's adept at handling even those bags with poorly flowing products, utilizing a range of discharge tools and conveyor belts tailored to the task.
Déchargeur Big Bag T5 à faible chargement
Spiroflow Déchargeur de Big Bag à faible chargement T5 is designed to empty bulk bags in areas with limited overhead space or where only low-lift forklifts can be used. The T5 Bulk Bag Unloader is directly connected to a flexible spiral or another appropriate conveyor. This setup measures ingredients from the bag based on volume or weight.
Ingredients can be directly channeled to mixers or other machinery, enabling an automated system for unloading, measuring, and transferring. For those in batching operations, having multiple bag frames for a single discharge station is an option, letting them unload bags partially, secure them again, and store them for later use.
Déchargeur de Big Bag à palan intégré T6
Notre Déchargeur de Big Bag à palan intégré T6 is a fully self-contained unloading station for dust-free and controllable bulk bag emptying. The T6 features a built-in "I" beam and hoist to load bags onto the unloader. It's also seamlessly linked to a protected conveyor, ensuring a smooth transfer of products to the processing equipment.
Effortless Handling and Comprehensive Dust Control
Bulk bags can be effortlessly transported to the unloader using a pallet truck, eliminating the need for forklift assistance. This streamlined approach simplifies logistics and enhances operational efficiency, allowing bulk bags to be conveniently stored and prepared for lifting when needed.
Full-Scale Dust Control Integration
Our bulk bag unloading systems are engineered with comprehensive dust control features. These features are meticulously integrated into the design to ensure that the unloading process is efficient, environmentally friendly, and safe for your workforce. Our systems help maintain a clean and hazard-free workspace by effectively containing and managing dust.
Flexible Screw Conveyor Solution
As part of our commitment to versatile material handling, we offer convoyeur à vis flexible solutions as an integral component of our bulk bag unloading systems. This adaptable conveyor system efficiently transfers bulk materials from the unloader to their designated destinations. Its flexible, helical screw auger ensures a gentle and consistent material flow, minimizing product degradation and ensuring the integrity of even fragile materials during transfer.
Belt Conveyor System Integration
In addition to flexible screw conveyor solutions, we also offer a conveyor belt system that seamlessly integrates with our bulk bag unloading systems. Conveyor belts provide a reliable means of efficiently transporting bulk materials to various processing points within your facility. Our conveyor belt solutions are designed for durability, smooth operation, and optimal material handling performance.
T7 Multi-Unloader Is Suitable for Versatile Material Discharge
Notre Multi-Déchargeur T7 offers a flexible emptying solution, enabling processors to release materials from a variety of containers, including bulk bags, sturdy bins, octabins, or standard bags. The Multi-Unloader uses an adjustable discharger and a supporting subframe. Bulk bags or sturdy containers can be positioned on this subframe, designed with fork channels for easy loading onto the unloader.
The unloader comes with a built-in hopper and a flexible spiral conveyor. This setup channels the bag's contents, based on volume or weight, to processing or packaging equipment. The discharger features a safety-interlocked door, allowing the operator to open the spout of a bulk bag or add small bags of product to the conveyor. This device is tailor-made for batching operations that require ingredients from various origins and transportation modes.
Déchargeur de Big Bags à Confinement Total T9
Spiroflow Déchargeur de Big Bags à Confinement Total T9 is designed for situations where the products in bulk bags are fine and powdery. This unloader ensures full containment during the unloading process to avoid contaminating the surrounding environment. The T9 is also the natural discharging choice when a product is volatile, toxic, or explosive.
Innovative Sealing Mechanism and Spout Stretching Device
The T9 features a cutting-edge sealing device that inflates within the bottom spout of the bulk bag, ensuring a secure seal throughout the emptying process, effectively eliminating the risk of dust emissions.
It also operates in conjunction with an automatic spout stretching device to promote a smooth and cylindrical path for material flow directly into a process vessel or integral conveyor. This patented feature is particularly valuable when products with poor flow characteristics are being handled.
Total Discharge Assurance and Crease Prevention
To prevent leftover material from escaping when the emptied bag is removed, the Model T9 uses bag massagers at both the corners and the base of the bag. It also has special features like a patented pneumatic bag tensioner and an inner liner clamp to stop creases from forming during unloading, which can trap the remaining material. This ensures that all the product is discharged from the bulk bag.
Enhanced Versatility and Containment
The unloader offers height adjustments for bags of varying sizes and includes a lifting frame locator. This ensures the discharger aligns properly with a process vessel or any other equipment receiving the material. This feature enhances product containment. Special design features also permit Cleaning in Place (CIP).
Déchargeur de Big Bags T9 CV Variante de Confinement
The T9 CV Containment Variant Unloader features a bag support dish designed to fit any bulk bag with a bottom spout. The spout runs through the center of the dish, making it easily accessible. The bulk bag provides an additional seal against the support dish for dust-free operation. The support dish is directly attached to a robust 3-inch square steel tube frame.
The T9 CV's containment enclosure is directly attached to the discharger's support dish and features two large front doors with clear polycarbonate panels for viewing. At the back of the enclosure, there's a 4″ dust extraction spigot designed for connection to a dust removal system.
Liner Clamp and Downspout Integration for Enhanced Versatility
Inside the containment enclosure of these industrial conveyor systems, there's a liner clamp and a downspout. The movable stainless steel clamp, along with the stationary downspout, aids in securely clamping the liner of the bulk bag. A clamp, powered by air pressure, retracts to align with the downspout. This unloader can be customized with various design features to optimize flexibility and user-friendliness.
T10/11 Bulk Bag Unloader for Dairy and Pharmaceutical Applications
At Spiroflow, we specialize in "high containment" conveyor solutions and offer a range of Bulk Bag Unloaders specifically for use in dairy and pharmaceutical applications. Our Déchargeurs de Big Bag Pharmaceutiques come complete with a liner spout clamping system, ensuring total containment of bulk bags during discharge and their subsequent removal. Interlocked, power-operated pinch bars are provided to clamp the bulk bag neck so the neckties can be released safely.
Depending upon the potency of the active ingredient, releasing the neckties, cutting open sealed liners, and feeding them through the clamp ring and over the discharge spout all take place within a negative pressure enclosure connected to a HEPA filtration system. Access to the untie chamber is accomplished through an access door or a sealed glove box arrangement.
Déchargeur de Big Bags Flo 60 pour matériaux peu fluides
The Flo 60 Bulk Bag Unloader, from our Control and Metering product line, completely empties poor-flowing and dusty ingredients from bulk bags and provides a very high level of dust containment.
Innovative Design for Complete Ingredient Emptying
The steeply sloped hopper, which converts the cubic shape of a bulk bag into a conical/silo shape, combined with pulsed vibration, is extremely effective in completely emptying any ingredient from a bulk bag. Mechanically manipulating the bag via paddles, arms, and other means to achieve ingredient flow is unnecessary. Lined or unlined bulk bags with outlet spouts, porthole outlets, or plain bottoms can be emptied.
Superior Dust Containment
By connecting a dust collection system to the Flo 60's dual dust vents, it forms a vacuum within its hopper. The gum rubber (or alternatively, nitrile) dust membrane ensures a tight seal along the bulk bag's sides. These dual functionalities ensure that the Flo series effectively contains dust without the need for an external outlet clamp.
Unlock Your Material Handling Potential With Spiroflow
With numerous conveyor systems manufacturers on the market, the choice of a bulk bag unloader can significantly impact your operational efficiency, dust control, and product containment. Spiroflow, with its diverse range of innovative solutions, stands out as your trusted partner in this endeavor.Spiroflow's commitment to excellence shines through. Don't miss out on the opportunity to revolutionize your material handling processes. Contactez-nous today and discover how their cutting-edge technologies can transform your operations. It's time to elevate your bulk material handling to the next level.