Integrated Solutions
to Modernize Your Plant
Bulk Material Handling Equipment and Systems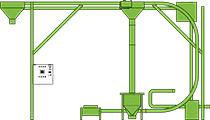 Aero Mechanical Conveyors
Spiroflow is a global leader in the field of powder handling and dry solids processing and an emerging leader in control systems integration. Throughout our 45-year history, our design engineers and process automation team have provided customers with the safest, most efficient, innovative and most reliable process solutions available.
Yes, we were an early inventor of the flexible screw conveyor, but we've grown significantly since those early days as have our products and service offerings. Spiroflow delivers engineered solutions designed to solve your greatest handling and processing challenges, whether it is a single conveyor or a complete powder handling system with integrated controls.
INNOVATION  SAFETY  EFFICIENCY  RELIABILITY 
Empowering Industries, Raising Productivity
Processing Equipment
Processing Solutions
Replacement Parts
Material Testing
Processing Equipment
Spiroflow offers a wide range of conveying solutions, bulk bag fillers & unloaders, and additional equipment needed for automated bulk handling of materials.
Processing Solutions
Replacement Parts
Material Testing
Spiroflow Automation is a full-service industrial control, networking and automation provider. We specialize in control system integration; specifically, PLC and motion control, press control and process automation. From stand-alone machines to multi-controller plant-wide systems, Spiroflow pairs a depth of engineering expertise with creative technological solutions to help our customers increase production, reduce costs and improve safety.
OUR BLOG
News
Events
Case Studies